Joseph Cianciotto: Blog Entry 38 – Tribute to my Brother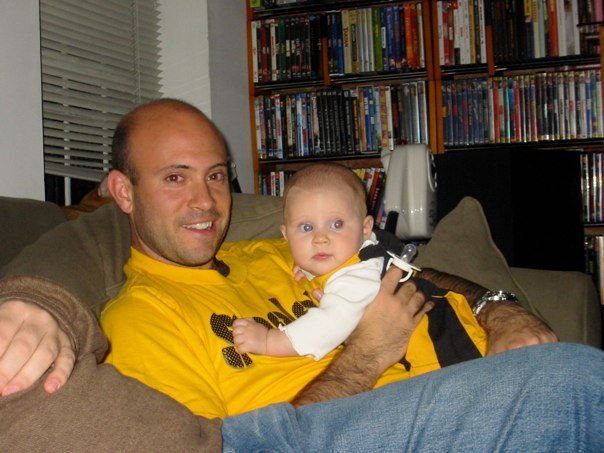 Posted by Joseph Cianciotto
I know that technically this blog is about my daughters. However, as a father I really can't think of a better role model than my dear friend and brother Robb, so I know they would indulge me this entry.
Today would have been Robb's 45th birthday.
I can't believe that nearly a decade has passed since he left us. I can still see his smile, hear his laugh and feel his overly zealous bear hug like it was yesterday.
When I first met Robb our freshman year at Carnegie Mellon, we had both pledged the same fraternity. It's funny, I remember he actually, couldn't stand me. And what was not to dislike…I was disruptive, loud and wreaked of day old Drakkar. My first impression of him was a little different. I kind of liked him but thought he was a bit whiney.
That year we were among the crop of 23 pledges at ΔΥ. Anyway, it wouldn't be long before our fraternity almost got kicked off of campus and the house was put on probation. This meant a member review hearing with the school and worst of all no parties. Suddenly these 23 overzealous, "ΔΥ-Forever" pledges somehow bailed until only five of us chose to remain standing. It was me, Sammy, Mort, Chris and Robb…we eventually inherited Greg but that is a tale of absurdity for another day.
But in that moment our freshman year, when it mattered most, Robb stared down the bow of our sinking ship and chose to stay. The thing was he already had a girlfriend and was from Pittsburgh, so there wasn't a lot of reasons he needed the fraternity, but yet he chose to stay.
And that's who he was.
Over those four years, Robb went on to become one of my best friends and my brother in every sense of the word. And while he actually had a freaking insane side in the best way possible, Robb was the kindest and most caring person you would ever meet. He adored his family, took care of his friends and was hopelessly in love with his girlfriend Jen.
The thing that I treasure the most about Robb, was he never shied away from showing those around him how much he cared. When most people would get out of hand after a few beers, Robb instead was the first to hug you and tell you how much he loved you. Sure, we teased him a lot about that but it was a very special trait that touched so many of our lives.
After college, he went on to marry his true love Jen and became a doting dad to his two little angels, Laurel and Robb jr., whom he was absolutely crazy about. Fortunately, he moved to New York so I got the chance to see him over the years and marvel at how he grew as a father and a husband.
I am not one to quote from scripture but there is this proverb, which goes like this, "Live fully, love wastefully." This always makes me think of him because it was how he lived his life each and every day. And so on one of the most bittersweet days of the year, Robb's birthday, I once more remember and celebrate him.
I miss you always my brother.
Follow me here.
---
---