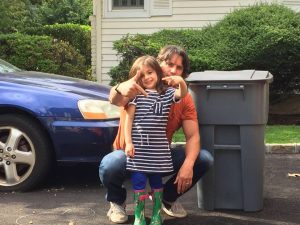 So little Hannah Elizabeth is our first child and for my side of the family, she is the first of the Cianciotto grandchildren to be born. As such Hannah is the person that changed both my and Jen's life the most.
It's funny how growing up your parents tell you that someday you will have a child of your own and you'll get to then feel what that love is like. And as much as I'm loath to admit when my parents are right, they certainly were.
From the moment Hannah was born she captivated our world. With those big blue eyes, that infectious smile and inquisitive soul she turned us into a family.
One thing you have to know about Hannah is she definitely dances to her own beat, literally. As a baby she was less interested in hearing lullabies and more into bopping to bands like the Cure, the Smiths and the Violent Femmes. As I write this she has newly discovered the Beatles and knows more about their catalog of music than her mother and me combined.
Hannah was also born fearless with a healthy dose of verve in everything she does. As soon as she could walk she ran. And whether it was chasing her into the ocean or keeping her from jumping on the neighbor's dog our little nugget has always made living, look like so much fun.
She also has a healthy imagination and well of creativity that is imbued in everything she does. When most girls wanted to be Elsa she wanted to be Anna…and then Rapunzel, and then Jasmine and then Ariel and eventually even Joy from the very existential film "Inside Out'. Following Hannah on this journey has never been dull and always leads to new adventures.
With the addition of Sophie to our family it has been exceptionally rewarding to watch our Hannah further grow into the role of doting big sister and protector.
For more fun reads about Joseph Cianciotto, check out his facebook page!